HAIKA CX335
Cleanroom Gloves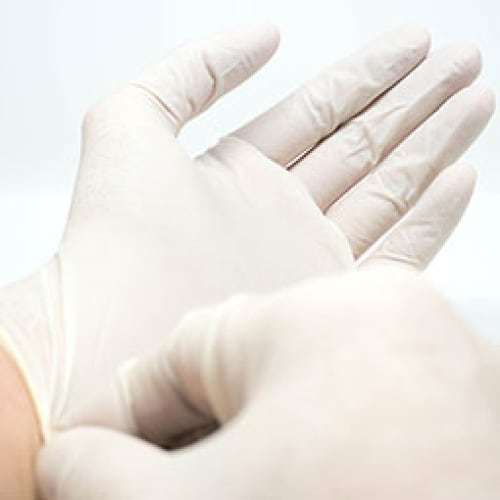 ---
Product Features
Secure Control: A textured surface enhancesslip resistance and allowsfor a secure grip.
High Puncture Resistance: Manufactured from nitrile,these gloves offersuperior puncture resistance compared to regularlatex versions, as well as enhanced resistance to chemicals.
Supreme Comfort and Sensitivity: The lightweight and elastic nature ofthe nitrile delivers an excellent sense of touch and a comfortable wearing experience even when worn for long periods.
Beaded Cuff: Durable beaded cuff design enablesthe glove to be donned efficiently, and helps it to remain securely in position when wearing.
ISO Class 5: Processed in a cleanroom environmentto ensure compatibility with ISO Class 5 operating conditions.
Powder-free and Latex-free: Minimisesthe potential consequences of powder-borne dermatitis and may be worn by people with aType I latex sensitivity.
Show More
HAIKA
HAIKA CX335
Product Code: PUR335
Nitrile, Powder-Free, Non-Sterile, Ambidextrous
Pack Size: Box of 100
Packs per Carton: 100 singles per box
Case Quantity: 10 boxes per case
EN374 - Micro-organisms
EN ISO 374-5:2016
Specification & Product Codes
Product Codes
| Product Code | Size |
| --- | --- |
| PUR3350 | XS |
| PUR3351 | S |
| PUR3352 | M |
| PUR3353 | L |
| PUR3354 | XL |
Packaging
| | |
| --- | --- |
| Pack Size | Box of 100 |
| Packs per Carton | 100 singles per box |
| Case Quantity | 10 boxes per case |
Product Specifics
| | |
| --- | --- |
| Length | 300mm |
| Thickness | mm |
| Liner | 100% Nitrile Butadiene Rubber |
| Coating | |
| Colour | White |
Certifications
| | |
| --- | --- |
| CE | CAT III |
| UKCA | |
| EN374 - TYPE B | JKT |
| EN374 - Micro-organisms | EN ISO 374-5:2016 |
Industries
Biotechnology
Electronics
Semi-Conductors
Pharmaceutical
Resources
HAIKA
HAIKA CX335
Product Code: PUR335
Nitrile, Powder-Free, Non-Sterile, Ambidextrous
Pack Size: Box of 100
Packs per Carton: 100 singles per box
Case Quantity: 10 boxes per case
EN374 - Micro-organisms
EN ISO 374-5:2016
Product Codes
| Product Code | Size |
| --- | --- |
| PUR3350 | XS |
| PUR3351 | S |
| PUR3352 | M |
| PUR3353 | L |
| PUR3354 | XL |
Packaging
| | |
| --- | --- |
| Pack Size | Box of 100 |
| Packs per Carton | 100 singles per box |
| Case Quantity | 10 boxes per case |
Product Specifics
| | |
| --- | --- |
| Length | 300mm |
| Thickness | mm |
| Liner | 100% Nitrile Butadiene Rubber |
| Coating | |
| Colour | White |
Certifications
| | |
| --- | --- |
| CE | CAT III |
| UKCA | |
| EN374 - TYPE B | JKT |
| EN374 - Micro-organisms | EN ISO 374-5:2016 |
Industries
Biotechnology
Electronics
Semi-Conductors
Pharmaceutical
Resources