Alpha Solway MD says Made in the UK is the future
Alpha Solway's Managing Director, Steven Binnie, told business leaders a shift to local manufacturing has been key to the company's success in responding to Covid-19.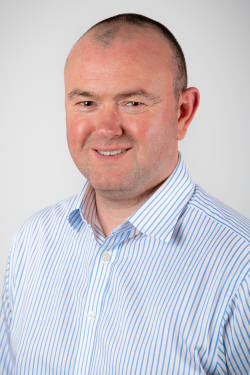 Commenting at the CAN DO Innovation Summit Steven highlighted the group's 25 year history and wealth of experience in the PPE industry.
He said: "Looking back from where we are now, it seems amazing that 12 months ago nobody knew what PPE was. Now we are in a position where there is enormous demand for PPE, especially in healthcare, and by the middle of 2021 we will have built up the capacity to manufacture over a billion healthcare face masks at our UK sites."
Since the start of the pandemic, Alpha Solway, part of the Globus Group, has significantly scaled up UK production and opened two new manufacturing facilities, in Dumfries and Warrington, which now employs nearly 500 people.
Steven continued: "When the pandemic hit, PPE supply became a huge, global issue. We took a long-term approach and took control of everything from the supply of raw materials through to final manufacturing and fast tracked plans to develop UK production facilities, with the long-term goal to have 75% of our products made in the UK - as quickly as we could. We were very innovative, very agile, very can-do approach to doing business."
"This approach has been key for us. We worked closely with NHS Scotland to develop solutions for their needs in terms of respiratory protection and masks. That was both cost-effective and crucially worked for their workforce. We knew our brand was trusted in that market and we wanted to ensure the product we delivered, maintained that relationship we have with the user."
Alpha Solway is confident that its focus on UK manufacturing is long-term, as demand for PPE is not anticipated to drop to pre-Covid levels, and resilient supply chains remain crucial for ensuring safety, especially for healthcare workers and patients.
Steven added: "I think the reality is, we're going to have to live with face masks in some form for the foreseeable future. The need for them to be made locally is well established now within the thinking of healthcare organisations and the Government.
"They recognise the value in UK-made, Scottish-made product. That's a fundamental change, it's not just about a particular price now. It's about reliability and resilience in manufacturing. That's given us huge confidence to invest in a future, and also in UK production."
The CAN DO Innovation Summit panel was chaired by Dr Andy McLaughlin, Health Supply Chain Development Lead, Scottish Enterprise, and Steven Binnie was joined by Sarah Jardine, COO, National Manufacturing Institute Scotland (NMIS), and Jacqui McLaughlin CEO, Reactec.